Each month we hope to post healthy appetising and wholesome recipes for you to try at home. Most of them will be basic recipes, not too difficult or expensive.
This page will dedicate itself to delivering healthy recipes from both the professionals and from around the web generally. We will not be posting 'meat or dairy' recipes, for those you'll have to look elsewhere:sorry.
So here, goes: Here's to health and well-being: Cheers
*****
December 2016
Jamie Oliver: Recipe: Jamie's Christmas Curry
Originally Posted  by JamieOliver.com at Jamie Oliver Recipes
Ingredients
1 1/2 teaspoons fennel seeds
1 1/2 teaspoons coriander seeds
1 tesapoon chilli flakes
1 medium cauliflower
groundnut oil
3 thumb-sized pieces of ginger
9 cloves of garlic
20 finger aubergines
3 medium onions
2-3 fresh green chillies
1 kg ripe tomatoes
1 cinnamon stick
150 g cashews
100 g coconut shavings
1 pomegranate
Spice Blend
1 teaspoon cardamom pods
2 teaspoons turmeric powder
3 dried Kashmiri red chillies
7 cloves
1 tablespoon fennel seeds
1 teaspoon cumin seeds
1 teaspoon black peppercorns
Indian Tempeh
3 cloves of garlic
1 small handful of fresh curry leaves
1 tablespoon brown mustard seeds
Directions
Preheat the oven to 200ºC/400ºF/gas 6.
Using a pestle and mortar, grind the fennel and coriander seeds, and chilli flakes until fine.
Place the cauliflower on a sheet of tin foil, rub in half of the ground spices and 1 tablespoon of oil, and season with sea salt and black pepper.
Wrap the cauliflower in the foil, pop it on a roasting tray and bake for 30 minutes, or until tender, removing the foil for the last 15 minutes to give it a gnarly crust. Remove and set aside.
Peel and finely grate the ginger and 6 cloves of garlic. In a bowl, combine two-thirds of the ginger, the grated garlic and the remaining half of the spice mixture.
Make an incision in each aubergine with a small sharp knife, then rub the ginger mixture into each one, along with a drizzle of oil.
Place the aubergines in a small roasting tray and cook in the oven for 15 to 20 minutes, or until softened and starting to split. Set aside.
Make your spice blend. Split the cardamom pods, add the seeds to a mortar with all the other ingredients, then grind well.
Peel and finely chop the onions, then deseed and roughly chop the chillies and tomatoes, keeping them separate. Peel and finely slice the remaining 3 cloves of garlic.
Place a large pan over a medium heat and toast the ground spices for 1 minute, or until aromatic.
Stir in 1 tablespoon of oil, followed by the onions, green chillies, sliced garlic, and the remaining ginger. Cook for 10 minutes, or until the onion and garlic are softened and coloured.
Add the tomatoes, cinnamon stick and 200ml of water and let it simmer over a low heat for 30 minutes.
In a blender, blitz the cashews with 4 tablespoons of water until you have a smooth paste, then stir this into your curry. Cook for 5 minutes, or until thick and fragrant.
For the tempeh, peel and finely slice the garlic, then add to a frying pan over a medium heat with a splash of oil, the curry leaves and mustard seeds.
Fry for 1 minute, or until crisp, then drain on kitchen paper.
Chop the roasted cauliflower into florets and stir into the curry along with the aubergines.
Top the curry with the tempeh and shaved coconut. Halve the pomegranate and bash it, cut side down, with a wooden spoon so the seeds come tumbling out. Scatter the seeds over the curry, then serve with chapatis on the side
*****
November 2016
Dr Bernard: Recipe: Quinoa Tabbouleh
Originally Posted  by Dr Bernard  8th November  2016 at Dr Bernard Recipes
This gluten-free version of tabbouleh substitutes quinoa for the traditional cracked wheat.
Makes 5 cups
Ingredients
1 cup quinoa
2 plum (or Roma) tomatoes
1 shallot
1 clove garlic
1 lemon, zest and juice
2 tablespoons Sherry vinegar
1/2 teaspoon coriander
1/4 teaspoon cumin
1/8 teaspoon cayenne (optional)
1/4 teaspoon salt
1/8 teaspoon black pepper
1 bunch curly parsley
Directions
To toast and cook the quinoa: Place the quinoa in a medium pot. Cover and cook over medium heat 3 to 5 minutes, until quinoa "pops" and becomes aromatic. Add 2 cups of water to the quinoa. Cover, bring to a boil, and then reduce to a simmer. Simmer 10 to 12 minutes, until quinoa pops open. While the quinoa cooks, you can prepare the rest of your ingredients.
To finish the tabbouleh: Mince the shallot and garlic. In a medium bowl, combine the shallot and garlic with the Sherry vinegar. Zest the lemon and add to the bowl. Juice the lemon into the bowl. Add the spices, salt, and pepper to the bowl. Allow to sit until the quinoa is done cooking.
Seed and dice the tomatoes. Remove the stems of the parsley and roughly chop. When quinoa is done cooking, remove the lid and fluff to let excess water steam off. Remove from heat and let cool. Add to the bowl with the shallot and spices. Add the tomatoes and parsley, and stir well to combine.
Serve chilled. This salad gets even better the next day.
Chef's Tip: Use curly parsley for a milder, slightly sweeter flavor.
*****
October 2016
Dr Campbell: Recipes: Mustard Crusted Tofu 
Originally Posted  by Epicurios at View at Epicurios Recipes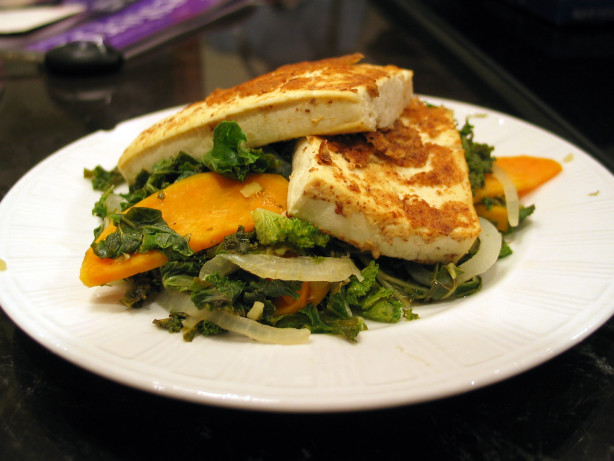 Makes 4 servings, 30 minutes
INGREDIENTS
1 14-ounce package firm tofu
1/2 cup whole grain Dijon mustard

4 tablespoons vegetable oil, divided
1/2 medium onion, sliced
1 tablespoon minced peeled fresh ginger
1 bunch kale, stem cut from each leaf, leaves thinly sliced crosswise (about 8 cups)
1 small red-skinned sweet potato (yam; about 8 ounces), peeled, halved lengthwise, thinly sliced crosswise
2 tablespoons fresh lime juice
PREPARATION
Cut tofu into eight 1/2-inch-thick slices. Arrange on paper towels; drain 10 minutes. Spread both sides of each slice with mustard.
Heat 2 tablespoons oil in large nonstick skillet over medium-high heat. Add onion and ginger; sauté 1 minute. Add kale, sweet potato, and lime juice. Cover, reduce heat to low, and cook until potato is tender and kale is wilted, about 12 minutes.
Meanwhile, heat remaining 2 tablespoons oil in another large nonstick skillet over medium heat. Add tofu; cover and cook until heated through and crisp, about 2 minutes per side (some mustard seeds may fall off tofu).
Arrange kale and sweet potato mixture on plate. Overlap tofu slices atop vegetables and serve.
*****
September 2016
Buddhist Chef: Recipe: Tofu Bolognese
Originally Posted  by Buddhist Chef at Buddhist Chef Recipes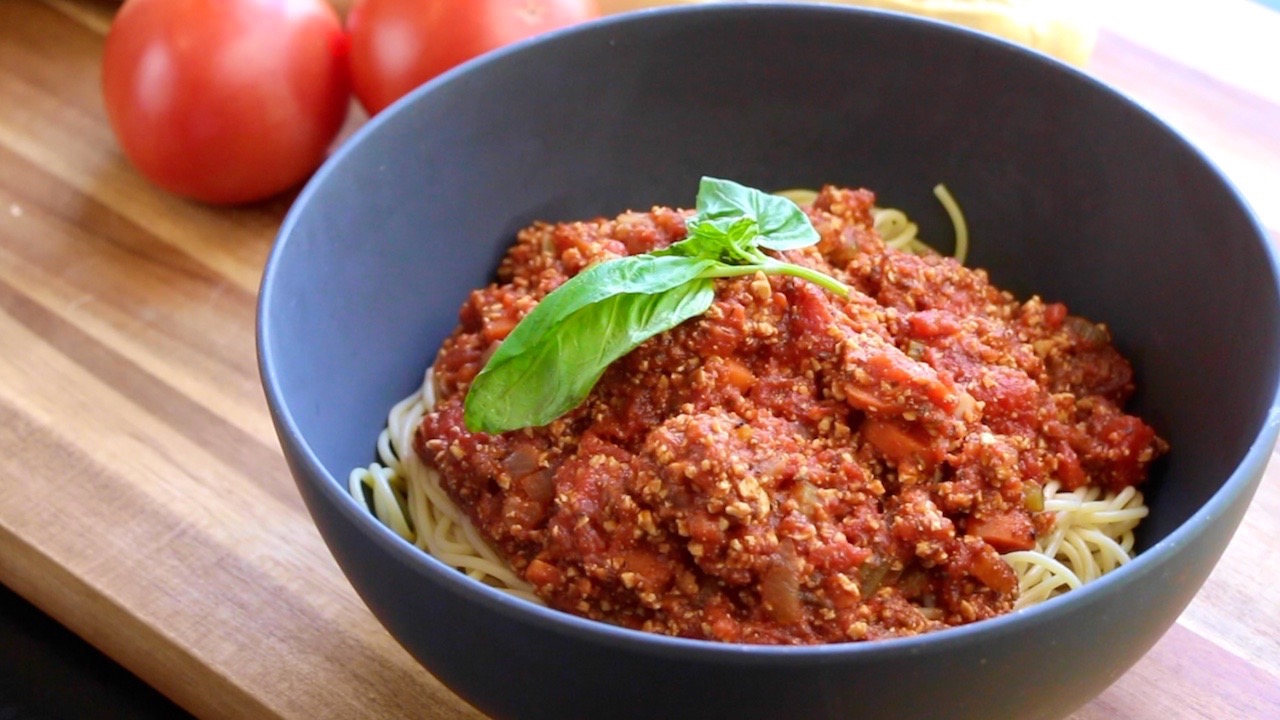 Ingredients
1- 16 oz (450g) block of firm tofu
3 tablespoons olive oil
1 large onion, finely chopped
3 celery stalks, diced
2 carrots peeled and diced
1 teaspoon of salt
1/4 cup soy sauce
1/4 cup brown sugar, cane sugar or maple syrup
3 cloves garlic, finely chopped
2 tablespoons dried basil
2 tablespoons dried oregano
1/2 teaspoon crushed red pepper flakes
3 cans of 28 oz (796 ml) diced Italian tomatoes
salt and pepper
Directions
Grind the tofu in a food processor or with a fork. Set aside.
In a large saucepan, heat olive oil. Add onion, celery, carrots and salt. Cook over medium-high heat until vegetables begin to soften (about 15 minutes). Add oil if needed.
Add the tofu, soy sauce, brown sugar, minced garlic, basil, oregano, crushed red peppers and tomatoes. Bring to a boil and simmer gently, stirring and scraping the bottom of the pan regularly, for 45 minutes.
Uncover and continue cooking 30 minutes or until it thickens. Add salt and pepper to taste.
Serve over the pasta of your choice.
*****
August 2016
Cookie+Kate:Recipe:Sweet Potato & Black Bean Quesadillas
Originally Posted  by Cookie+Kate at Cookie+Kate Recipes
INGREDIENTS
Avocado Salsa Verde
1 cup mild salsa verde, either homemade or store-bought
1 large ripe avocado, pitted and sliced into a few big pieces
Big handful of fresh cilantro (some stems are ok)
½ lime, juiced (about 1 tablespoon lime juice)
Quesadillas
1 medium-to-large sweet potato (about 12 ounces), peeled
1 to 2 tablespoons olive oil
1 teaspoon chili powder
½ teaspoon ground cumin
Salt
4 whole grain tortillas (about 8" in diameter)
3 cups (about 6 to 8 ounces) freshly grated cheddar or Monterey Jack cheese
1 cup cooked black beans (from one 15-ounce can), rinsed and drained
2 teaspoons refined avocado oil or other quality high-heat vegetable oil, for brushing
INSTRUCTIONS
Make the avocado salsa verde: In a food processor or blender, combine the salsa verde, avocado, cilantro and about 1 tablespoon lime juice. Blend until the salsa until it is super creamy, stopping to scrape down the sides as necessary. Scoop it into a bowl for dipping.
IF YOU HAVE A SPIRALIZER: Slice off the pointy ends of the sweet potatoes, then spiralize the sweet potatoes using blade A (the skinniest noodle option). Warm 1 tablespoon olive oil over medium heat until shimmering, then add the spiralized sweet potato, chili powder, cumin and a pinch of salt. Cook, stirring often, until the noodles are tender and cooked through, about 8 to 10 minutes (I added another tablespoon oil to my cast iron skillet to prevent the noodles from sticking; non-stick skillets may not need any extra).
IF YOU DON'T HAVE A SPIRALIZER: Slice your sweet potatoes into ¼" cubes. In a large skillet, warm the olive oil over medium heat. Add the chopped sweet potatoes and toss to coat, then add the chili powder, cumin and a pinch salt. Stir to combine. Once the pan is sizzling, add a scant ¼ cup water, then cover the pan and reduce heat to low to avoid burning the contents. Cook, stirring occasionally, until the sweet potato is tender and cooked through, about 10 minutes.
Make the quesadillas, one or two at a time: Heat a 10-inch skillet over medium heat. Warm one tortilla for about 30 seconds, flipping halfway. Flip once more, and sprinkle one-half of the tortilla with about ⅓ cup shredded cheese. Cover the cheese with ¼th of the cooked sweet potatoes and ¼ cup beans. Sprinkle about ⅓ cup cheese over the fillings and fold over the empty side of the tortilla to enclose the fillings.
Quickly brush the topside of the quesadilla with a light coating of oil, then flip it with a spatula. Let the underside of the quesadilla cook until golden and crispy, about 1 to 2 minutes. Brush the topside with a light coating of olive oil, then carefully flip it and cook until the underside is golden and crispy. Transfer it to a cutting board. Repeat with remaining quesadillas.
Slice each quesadilla into three even wedges using a sharp pizza cutter or chef's knife. Serve immediately, with avocado salsa verde on the side.
*****
July 2016
Red Onion: 1/2
Garlic: 2 cloves
Tomatoes: 4
Red Bell Pepper: 1/2
Red Chilli: 1
Red Kidney Beans: 250g (drained)
Basmati Rice: 150g
Boiling Water: 450ml
Extra Virgin Olive Oil: 1Tbsp
Apple Cider Vinegar: 1Tbsp
Ground Cumin: 1 Pinch
Ground Red (cayenne) Pepper: 1 Pinch
Dijon Mustard: 1 Large Tsp
Honey: 2 Tsp
Directions (Serves 2):
Remove the skin and hard ends from the onion and garlic and finely dice. Finely chop the tomatoes. Remove the core and seeds from the bell pepper/ capsicum and finely chop. Remove the top from the chilli and slice (do not remove the seeds). Drain the beans. Rinse the rice to remove excess starch.
Put the rice in a pan, add the water, bring to the boil and cover with the lid. Reduce the head and simmer for 20-25 minutes, until the water has evaporated. Keep an eye on the rice and add a little more water if required.
Meanwhile
Please the oil in a pan and heat over a medium to high heat. Add the onion and garlic and cook for 5 minutes until they soften. Add all other ingredients except the honey, then using a stick blender, pulse for 6 seconds, so that some of the chilli is blended to create a thicker sauce, but the majority is still in it's original form. If you don't have a stick blender, you can blend 4 tablespoons in a blender and then return to the pan and mix well.
To serve, put a generous scoop of rice on your plate and pile the veggie chilli on top.
*****
June 2016
Joe Cross: Recipe: Orange and Beet Quinoa Salad
Originally Posted  by Claire Georgiou, Reboot Naturopath, B.HSc ND  at Reboot Recipes
INGREDIENTS:
2 large beets
2 sweet potatoes
2 Tbsps of cold-pressed olive oil
2 tsp of thyme
1 cup of cooked quinoa
2 oranges
2 cups of baby spinach leaves
½ cup of walnuts
Orange Dressing
½ cup of olive oil
orange juice
2 Tbsp of apple cider vinegar
1 tsp of seeded mustard
2 tsp of honey
Salt and pepper to taste
DIRECTIONS:
Pre-heat oven to 350°F (180°C).
Peel and chop the beets and sweet potatoes into quarters. Combine well with olive oil and thyme, then wrap each beet and sweet potato piece in foil and cook for 35 minutes or until tender (pierce with a fork or knife to check). Chop into smaller pieces.
Cook the quinoa according to the instructions.
Peel the oranges thickly and squeeze the skin to extract the juice into a jar, remove the pith from the oranges into segments over a small bowl and collect the juice.
Combine all the remaining dressing ingredients including the orange juice and shake well
Combine the salad ingredients and drizzle the dressing over the salad and mix in and enjoy!
SUBSTITUTIONS:
Beets – golden beets, carrots
Sweet potato – winter squash, pumpkin
Quinoa – brown or wild rice
Walnuts – any nut of your choice
Prep time: 10 minutes
Cook time: 35 minutes
Total time: 45 minutes
Servings: 4-6
*****
May 2016
Dr McDougall: Recipe: Tex Mex Bean Burgers
Originally Posted  by Dr McDougall May 2016 at Dr McDougall Recipes

These burgers are served in a bun with typical taco toppings, giving them a decidedly Mexican flavor.
Preparation Time: 15 minutes
Cooking Time: 20 minutes
Servings: 5
Ingredients
1 15 ounce can cannellini beans, drained and rinsed
1 cup whole wheat bread crumbs
1 4.5 ounce can chopped green chilies
2 green onions, chopped
1 tablespoons egg replacer mixed in ¼ cup warm water
¼ cup cornmeal
Directions
Preheat oven to 350 degrees.
Place the beans in a medium bowl and mash slightly with a bean masher. Stir well, then add bread crumbs, green chilies, green onions and egg replacer mixture. Mix well. Place the cornmeal in a shallow bowl. Shape the mixture into 5 patties, each about ½ inch thick. Dip each side into the cornmeal, then place on a non-stick baking sheet.
Bake for 20 minutes, 10 minutes on each side.
To serve, place some shredded lettuce on the bottom of the bun, put the burger on the lettuce, then top with guacamole (or Broccomole) and salsa, and the top of the bun.
Hints: I usually double this recipe when I make it so we have some extra for lunch the next day. These keep well in the refrigerator and may also be frozen. They reheat well in the microwave or on a griddle.
*****
April 2016
Gerson Institute: Recipe: Cauliflower with Carrot Sauce
Cauliflower looks like broccoli's very pale brother. That's because, like broccoli, cauliflower belongs to the family of cruciferous vegetables. Cruciferous vegetables like cauliflower, broccoli, cabbage, watercress and kale are chock-full of antioxidants and are known to be powerful players in preventing cancer. Kale has become quite the superfood star of the culinary world over the past few years, but definitely don't forget about its nutritious cousins like cauliflower!
This cauliflower dish is a favorite among the staff at the Gerson Institute. It consists of cauliflower slow-cooked usingDr. Gerson's method, topped with a creamy, slightly-sweet carrot sauce.
Slow-Cooked Cauliflower
Ingredients:
1 large yellow onion, sliced or diced
1 head cauliflower, cleaned and left whole
Directions:
Layer the onion in the bottom of a pot large enough to hold the cauliflower head. Place the cauliflower on top of the onions
Cook uncovered on medium heat until the onion begins to steam
Cover the pot and continue to look until the lid becomes hot to the touch
Turn the temperature down to low and continue to cook for 45 minutes or until the cauliflower becomes very soft
Carrot Sauce:
Ingredients:
1 yellow onion, cut into slices
2 cloves garlic, left whole
3 large carrots, sliced
1/4 cup soup stock
1/2 teaspoon honey or other permitted sweetener (optional)
Yields: 2 cups
Directions:
Place the onion slices on the bottom of a small pot, then layer the garlic and carrots on top
Begin to cook on medium with the pot uncovered, until the vegetables begin to steam
Add soup stock and cover
When the lid becomes hot to the touch, turn the temperature down to low
Simmer on low heat for approximately 45 minutes, or until the vegetables are soft
Blend the carrots, onions, garlic and sweetener with the liquid left in the pot after serving
Serving: Spoon or pour the carrot sauce on top of the cauliflower, and you're ready to eat! This is also good with chopped green onions, chives or our favorite onion, garlic and dill garnish (get the recipe here).
Bon appetit!